Engineering smarter ways to work.
Cortland is a global designer, manufacturer, and supplier of technologically advanced ropes, slings, tethers, and strength members. With more than 40 years of application and design experience, we provide exceptional understanding and insight into the most difficult challenges our customers face. Our unrivaled manufacturing capabilities—including the world's largest 12-Strand braider—paired with our deep engineering expertise enables us to deliver a broad range of solutions tailored to the highest demands across all industries.
Driven by innovative thinking, we transform ideas into proven products. Our synthetic solutions are used in the most demanding environments, providing precision performance and strength. While many of our clients come to us for custom work, we also offer an extensive product line of standard solutions. Committed to quality, our patented designs set marketplace standards and improve operational efficiencies, enabling customers to work safer, faster, and better.
We're a collaborative team that thrives on challenge and unconventional thinking. Our success is based on close and continued interaction with customers that continues long after the sale.
Creating the industry standard for subsea tethers
By engineering the first tether to be approved by DNV Type Approval, Cortland set the industry standard. No other fiber tether solution has achieved this design specification.
Vertical positioning of a subsea buoyant structure for decades is very different from horizontal positioning of floating structures like FPSO's. When engineering subsea tethers that deliver a design life greater than 20 years in environments battling corrosion, marine growth and particle ingress, the product design and choice of materials are critical to success.
Cortland's Selantic® Tethers have so far been the only available material that has the field-proven performance for this application due to their low creep rate (non-reversible elongation), and long-term fatigue performance. Testing activities on Selantic® Tethers retired after 15 years of use have verified this within the given design limits. In addition, Cortland developed a system for ROV-friendly connection / disconnection of their Selantic® tethers, as described in patent WO2013165253A1.
Transforming tow and recovery operations
When heavy machinery – such as articulated trucks or wheeled excavators – become stuck or inoperable, shackle and block-and-pulley arrangements are standard. While suitable for some applications, it can be problematic for others, especially when components are too heavy for a single technician to handle alone. In addition, it may not allow for proper load balancing, risking breakage.
Cortland, together with Caterpillar Inc., developed a patented recovery / towing assembly that is lightweight, durable, and improves personnel safety. The Cat® synthetic rope recovery and towing system is the only approved system designed to replace heavy chain and wire rope.
Innovating deepwater subsea exploration
While synthetic fiber ropes have several inherent advantages in deep water lifting, the use of active heave compensation (CBOS applications) presented potential issues for fiber ropes as it did for wire ropes: heat builds up inside rope over compensator sheaves when rapid cycling occurs; synthetic fibers do not shed heat readily; high temperature increases creep rate locally; and rope can ultimately fail in sheave area. Cortland engineers thought if the inherent advantages of weight and environmental stability of synthetics could be coupled with better CBOS fatigue life, it would provide a superior deepwater solution.
Cortland's patented technology of Braid Optimized for Bending (BOB®) rope construction was developed and targeted specifically for use where ropes cycle continuously back-and-forth across sheave applications. It was proven in 2006 when used aboard the first successful full Active Heave Compensated deepwater rope traction winch used to deploy equipment into 2,700 meters of water.
Achieving socketed terminations for large rope
Large fiber ropes had been limited to spliced end connections with thimbles and other large rigging hardware. In cases such as crane lines and pendants where wire sockets are used, suitable termination options simply did not exist.
Cortland engineers partnered with Applied Fiber to solve this historical challenge of large rope socketed terminations – and achieved 100% rated rope efficiency in a compact package. The termination process allowed the production of terminated ropes with length tolerances to millimeter precision, simply not achievable with standard splicing methods. This introduced many new termination options for synthetic fiber rope, including multi-point inspection, overload indication, interchangeable and reusable connections, and integrated hardware.
Improving buoy and mooring technology
With over 40% of the world's population presently living within 2 miles of the ocean, the best way to provide early warning to vulnerable communities is to establish a network of wave sensitive buoys that transmit real-time information. A mooring line for an oceanographic buoy system is a line that secures a buoy in place in the ocean.
Normally mooring line systems connect a multitude of cables, which makes them cumbersome, large, and difficult to install. However, Cortland's innovative solution, developed and patented in conjunction with NOAA, offers significant installation and maintenance cost advantages over conventional designs. The durable construction of Cortland's ETD (Easy to Deploy) oceanographic mooring line system eliminates connecting hardware, which means that the systems last longer, are more reliable, and reduce operation and maintenance costs compared with traditional solutions.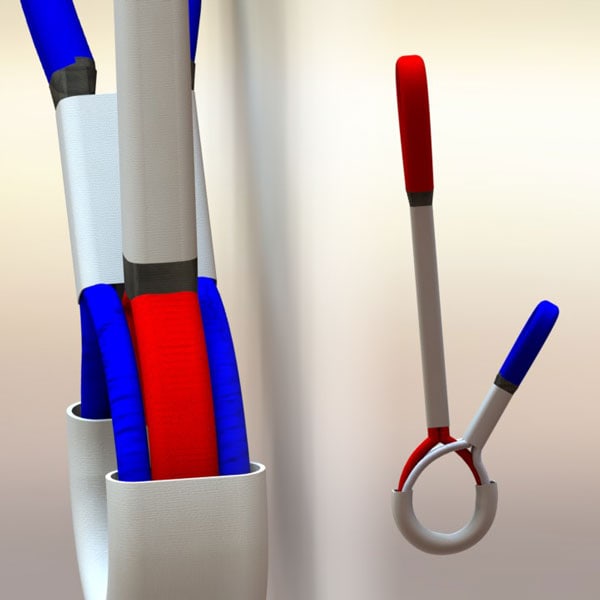 Modernizing load transfer operations
Load transfer operations are routinely performed subsea when installing equipment such as a steel catenary riser (SCR), a pipeline end termination (PLET), a pipeline end manifold (PLEM)/manifold, etc. Currently, the industry uses a hybrid solution including steel hardware (shackles, tri-plates, etc.) and synthetic slings. However, deeper water and increasing safety factors have caused traditional rigging to become very large, limiting the 'height under hook' of installation vessels and making the rigging systems heavy and difficult to handle.
Cortland developed a patented synthetic solution for performing subsea load transfer operations from crane hook to structure, using synthetics. The solution eliminates the steel components from hook to structure, particularly the tri-plate and associated shackles, reducing weight, size, installation time, and potentially overall cost of the rigging system without jeopardizing the required factor of safety (FOS).